(Advert)
I am no beauty guru. But as a girl, I do put on makeup on a daily basis to conceal my imperfections due to breakouts, sinus problems and lack of sleep. Everyday to work, I will put on my BB cream, concealer, powder foundation, cream blusher and fill in my brows. If I have the mood to doll up, I will add on eye shadows, eye liner and mascara. After a long day from work, I need a good cleanser to clean off my makeup completely to prevent more breakouts on my skin, so I have always been trying all kinds of different makeup remover products to find the best I could.
I have heard about this Korean brand makeup cleanser called the 'Clean It Zero' by banila co. As many of you know, Korea is famous for their cosmetic products! I always have been a fan of Korean cosmetic products and often, I never dared to purchase from 3rd party suppliers as there are  incidents where fake products are sold. It's scary as we don't know what is inside the product!
BUT, I got this Clean It Zero from a very reliable supplier based in KL, who got their supplies of products all the way from Korea, directly from the manufacturer itself! I have been using it for a month and I LOVE IT!
The Clean It Zero Cleanser promises to remove dirt, makeup, and oil without drying the skin or leaving any greasy residue. Sound really promising right!
The packaging is so pretty, right? I'm a sucker when it comes to pretty packaging. The Koreans are good at this! Just that for us non-Koreans, we will have difficulty reading the instructions and ingredients as everything else is written in Korean.
This pretty pink one is the Clean It Zero Original.
The Clean It Zero Original is suitable for normal skin and contains acerola and herbal essence for moisturising the skin.
There are another 3 types of Clean It Zero – Resveratrol,Radiance and Purity.
The Clean It Zero Resveratol is effective for reducing large pores. It contains grape seed oil and olive oil for thightening of the skin and gives a refreshing finish.
The Clean It Zero Radiance is for skin whitening and cleanses your pores. It contains viticin and moringa essence that aids in brightening up the skin.
The Clean It Zero Purity is for sensitive skin. It calms irritable skin and balances your skin texture. It contains mineral oils and null-additive paraben and does not contain any artificial pigments or fragrances and alcohol.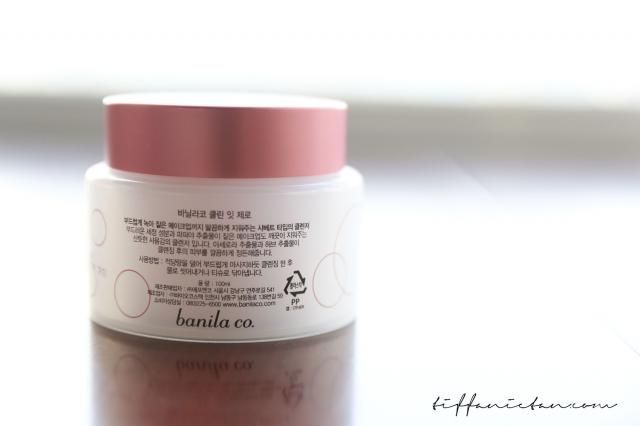 This is what I meant by everything else is in Korean.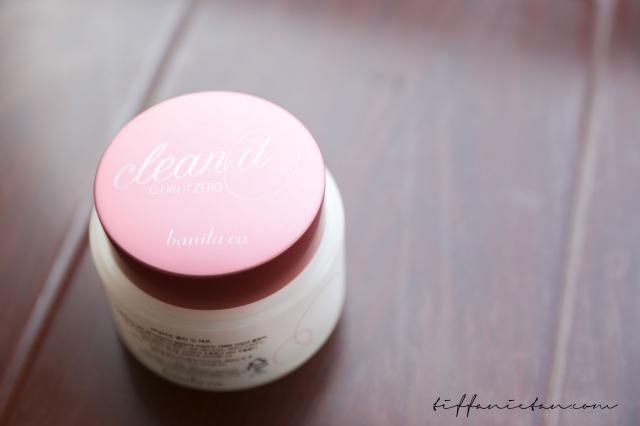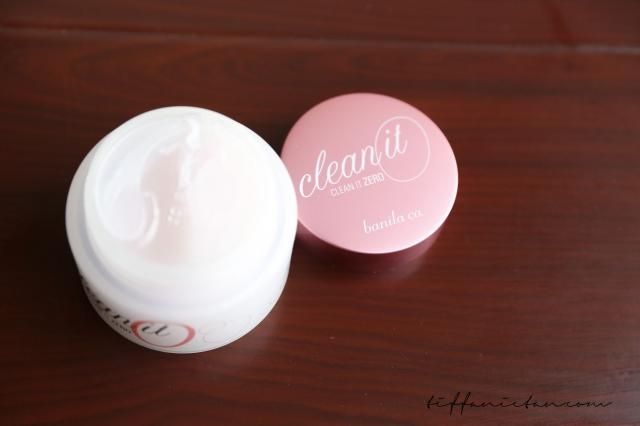 So, the packaging also comes with a spatula. It is useful for those who is concern about hygiene. Some say your hands are dirty and you should not dip your finger into the product and contaminate it. Well, the spatula is also useful for those with long fingernails and those beautiful 3D nail arts.
Okaaaayyyy… as I am very concern in showing much of my face up close as my skin is quite at the worst side now and also because I do not have a pretty face, I shall demo on my forearm.
I applied a generous amount of SPF 45PA+++ BB Cream by Cyber Colors, cream blusher by Too Cool for School (super generous amount i know right…), Real Lasting Eyeliner 24Hours 1 Day Tattoo by K Pallette and some eyeshadow by MAC. I didn't bring much makeup to Beijing so this is all I got.
The texture of the product is actually quite moisturising. Ok, I suck at describing things.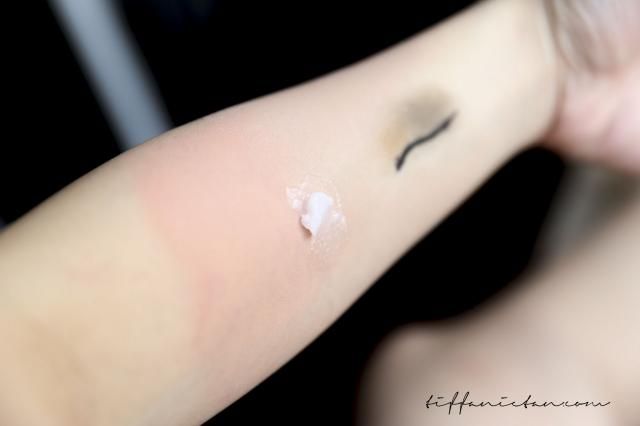 Scoop up a generous amount for your face (here, for my forearm) and start massaging it to dissolve the product. Well, massaging your face is also good for blood circulation. So it's a win-win situation. You get your makeup removed, massage it to promote blood circulation that leads to younger looking skin and at the same time moisturizes your skin!
After massaging for about 1.5 minute, the product has dissolved completely…….
EXCEPT the EYELINER!
I actually massaged longer and harder on the eyeliner but it was so stubborn it didn't wanna dissolve. It's either my eyeliner is super powerful or Clean It Zero is not powerful enough to remove waterproof products.
For eye makeups, I usually use waterproof products as I have teary eyes. So having a cleanser that can remove waterproof makeups is very important to me. If you have sensitive eyes like me, do not attempt on your eyes.
After massaging, I rinsed off with water and yup, the makeup are completely gone (except the eyeliner). You can use a wet cotton or makeup remover wipes to remove them too. However, when used on my face, the Clean It Zero is solely to remove my make up only. I will still use my facial cleanser to wash my face before applying my other facial products.
Though the Clean It Zero is not effective on waterproof makeup, it is still the product that I would recommend to those who doesn't use much waterproof eye make up. This product gently cleanses off your makeup on your face, moisturizes your face and like I say earlier, helps in blood circulation as you massage your face for a good 1-2 minutes =D As for me, I have to use a separate product to remove my eye makeups as it doesn't help in dissolving waterproof products. However, as most days I do not put any makeup on my eyes already, this product is still a way to go for me!
Wanna know where to get the Clean It Zero? Below are the details for more information / purchase.
Facebook : Sapphire 218
Email : ask@sapphire218.com
Whatsapp / WeChat / Viber / Line : +6012-9813218
WeChat Id : Sapphire_218
Mention my name "TiffanieTan" to know more!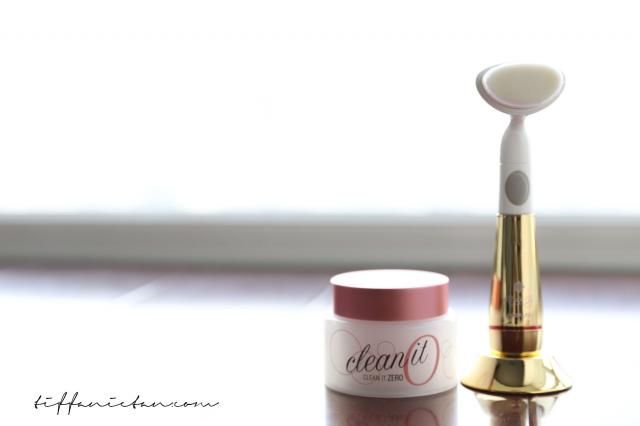 oh yes, you see that. The RolliB Pore Sonic Cleanser. I can't wait to write my review about another awesome product!
Thank you so much Sapphire 218 for bringing in all these awesome stuff!