I have just arrived home from my short trip back to KL. It was a random and last minute trip, to satisfy my cravings for food and also simply because I miss my boyfriend. Other than that I also catched up with Kel Li and Nigel. It as a good night!
Anyway, the post is more about myself. So here it goes.
I didn't get to attend City Harvest on Sunday morning because I didn't have transport. Usually if my sister have to serve in church on Sunday morning, I will send her to church at 7am, drive home, get ready for church and drive back for service at 10am. However, she had to leave home at 6.30am and had to fetch her friend. So I decided to sleep in and attend Kingdom City at 5pm with Pao, who overnight at my place.
Invited Josh along for service and I must say, there must be a reason why I was willing to spend so much on my flight ticket just this trip back to KL. And there also must be a reason why I felt so tired and wanting to sleep in and feel bad and go to other church that day.
The moment I stepped into Kingdom City at Luther Centre, I felt such strong presence of God. It's been awhile since I really felt His presence. I was ministered at the point of worship already. Fast forward, Pastor Jemima spoke about a very simple message on "Building a Foundation that Lasts". It was so simple, but it was as if she was telling me directly, "hey, this is for you!"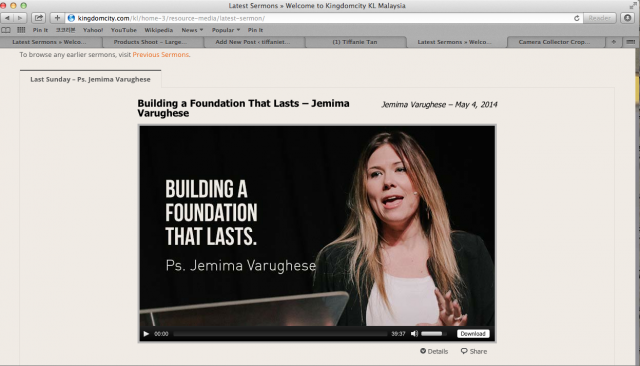 You can listen to the sermon online by clicking here.
Honestly, I am a person who wants to achieve many. I wanna learn so much until sometimes people calls me a superwoman or over ambitious because I am doing so much, just to find achievement. However, when something disappoints me, I start crushing down and being negative. The best person who knows all these is my boyfriend and my sister. I can get really really really negative about everything around me and about myself and start blaming the people who are close to me for everything (i'm sorry….. 🙁 ). Other than that, I worry for every single thing on planet earth. Hence, why I try to work so hard to find enough money so I could live a comfortable life. And with all these negativity, I turned away from God.
After service, Josh told me something random.
"You should be like your brother you know…"
"Why should I?" I asked.
Josh spoke something that made me realized one thing that I have never thought before, "I have not seen your brother getting angry. He is a person who doesn't worry about anything. I always see him so happy despite so many failures in his life. Yet, he doesn't give up, he still find ways to work things out."
I remember arguing with my brother and stated all my thoughts to him. I remember him telling me, "Why worry? God will provide!"
"Yes, God will provide! But with your kind of carefree attitude, not doing what you are supposed to do, playing computer games all the time, failing your studies, how do you think it will happened?", I argued back.
"O you little faith".
The argument went on and I got so annoyed, I told him I was very upset and hurt for not being appreciated. He apologized.
I got more annoyed when I have do to so much and still don't feel any achievement, but my brother doesn't have to do anything but still receive so much and I always thought why  #theworldissounfair
But I got to know something this weekend. My sister shared with me something that got me thinking back on that argument I had with my brother some time ago, and that statement Josh said to me. Despite all the failures that made us all upset and embarassed most of the time, he has been SO BLESSED. I don't wanna reveal anything yet until all is confirmed (no, he is not getting married yet lol). He is gonna be what he said of before and no one could think this will ever happen.
He trusted God.
He cast all his worries to God.
He allowed God to take control of His life.
He is ALWAYS HAPPY despite ALL the scoldings.
He is also famous…. everybody knows Abishua Tan. hahahaha
"Do not limit God", Josh reminded me after church service.
Basically, the topic throughout my whole weekend is about being positive, being happy and worry less. Then, Josh forwarded me a quote via Whatsapp,
"Science has shown that negative emotions like stress can harm performance and cause negative side effects to the human body. Likewise, positive emotions like joy have huge impact on sleep, performance, health and recovery".
Very true. I always fell sick, have all kinds of diseases and I visit the doctor so often like I go shopping in shopping malls.
Throughout my trip back, I was reading John Green's "The Fault In Our Stars". The character in this book, Hazel and Augustus both have cancer. But from the beginning to the end of the book, Hazel and Augustus lived their life to the fullest despite Hazel having to be on oxygen all the time.

They never worry. They never blamed anyone for what they are going through. Kept me reflecting about my life. I always think it sucks, but there are other people's life that is suckier.
A must read. This is probably one of the first time that I finished reading a book in less than a week. #achievementunlocked hahaha. Can't wait to watch the movie though.
Learning to love and appreciate myself, my life, the people around me, my family, my leaders, my church and my beloved boyfriend. I'm glad my family and my boyfriend has been so patient on me and has yet to give up on the oh so negative daughter/sister/girlfriend.
A short trip but yet a fulfilling, fruitful and amazing one. I have found that peace once again. Learning to cast all my burdens unto Him.
If God gives such attention to the appearance of wildflowers—most of which are never even seen—don't you think he'll attend to you, take pride in you, do his best for you? What I'm trying to do here is to get you to relax, to not be so preoccupied with getting, so you can respond to God's giving. People who don't know God and the way he works fuss over these things, but you know both God and how he works. Steep your life in God-reality, God-initiative, God-provisions. Don't worry about missing out. You'll find all your everyday human concerns will be met. Give your entire attention to what God is doing right now, and don't get worked up about what may or may not happen tomorrow. God will help you deal with whatever hard things come up when the time comes. (Matt 6:30-34) The Message.